Recommended Art Galleries "The best contemporary Art Gallery in Glasgow, friendly, knowledgeable and passionate about Scottish Art" Established in 1994, Comme Ca Art is the North West's leading art and design agency. With over 800 artists and designers on the books, Comme Ca Art have an abundance of art and design disciplines to

suit each individual or client's requirements. We exhibit and sell work including photography, limited edition prints, sculpture and painting. A developing gallery, soon to bring to the U.K. a new art form from Zanzibar, the stunning henna art on canvas. The talented artists at Zayaa Gallery in Stone Town have transfomred henna art from a

body painting to henna art on canvas, using vibrant colours to produce a truly unique work of art. Please view sample art on our website.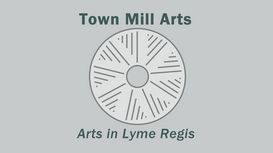 It was founded at the beginning of 2010 and has gone from strength to strength. The emphasis is on providing an accessible exhibition space for local artists and makers, with plenty of opportunities

for visitors to meet the artists, who steward most of the shows. There will also be invited artists and local arts organisations included in the programme. The galleries are open from 10:30-4:30pm every day, and often for longer in the holidays. Thinking of joining us?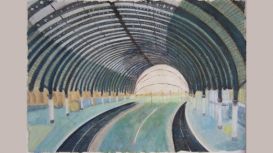 I spent much of my early childhood in Germany and Africa - where I read every book on my parents' shelves, became fascinated by the patterns on everyday objects, and learned to make lino-cuts. We

returned to a dark rainy London when I was in my teens. I detested school but was rescued by an inspirational art teacher, Meriel Cardew (wife of the potter Michael), a vivid, kindly figure. Highlights included visits from Michael and from the Nigerian potter Ladi Kwali. Mayflower House Art Gallery is a brand new venture launched by Bretonside Copy in Plymouth. In addition to general print services such as flyers, posters & business stationery we have built a fine

reputation with local artists and art groups, providing high quality giclee fine art prints, laser prints, greeting cards and postcards from their original art. With our photographic studio, quality scanning and framing services we can now also display and sell client art. Truly a one stop art shop!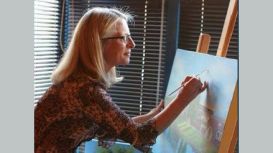 I always enjoyed art at school and had a great teacher but not many options were available to further my artistic education in those days so I ended up working at a local photography studio touching

up black and white wedding photographs - yes they were all printed then, including the proofs. On a measely £7 per week I wanted to earn some real money so I went into the exciting world of office work (Insurancea and then sales) until 2007. Charming riverside Art Gallery selling original art,ceramics, glass, jewellery, textiles, prints and cards. Situated next the Wishing Well Tearooms and Watergardens i the beautiful village of Upwey. take to art is a independent contemporary art gallery set in a Tudor Arcade, just a thirty second walk from the Garrick Theatre and main shopping Centre of Lichfield, Staffordshire. We pride ourselves

on our extensive range of original artworks; the gallery showcases a dynamic selection of national and international artists with an opportunity for local artists to submit their work with a continually changing rich exhibition programme. We offer a diverse range of paintings,sculptures,& ceramics Itch Gallery is a vibrant little gallery in the heart of Rutland run by award winning business woman and ceramicist, Jenny Creasey. Itch gallery works with the talented artists and makers to bring you

the best contemporary British art and craft. The gallery stocks everything from original artwork and prints to handmade jewellery, ceramics, glass and textiles. Gallery showcasing the work of professional artist Sean Coupe. Home of Imagine Arts private art school where Sean coupe tutors groups and individuals in a number of disciplines. On site teashop, ample

free car parking.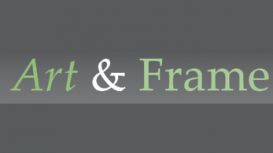 Established in 1992, we are dedicated to providing a friendly and reliable service to our customers. With a fantastic range of high quality art supplies, and guild commended framers who are able to

frame anything from certificates to treasured art works, we provide our clients with trustworthy and professional services. A small Gallery opened in December 2012 to show and sell the art and designs of local artists including that of the proprieters Rob and Lorna Soar. Ceramic and Porcelain peices can be found here as

well as fused glass and wood turning. Your special memory can be preserved in an oil painting to hang in your own home or office. Much of Mike Holman's work is in oil paintings on canvas sizes 30" x 20" and 48" x 20" ;

but he has the resources to offer a wide range of media and sizes. Your requirements can be met be it miniature to mega canvas, marquette to mammoth sculpture or semi relief . PLEASE NOTE - All these works are available as PRINTS or POST CARDS. The gallery at the guild in Chipping Campden is an outstanding local co-operative comprising twenty five artists, ceramicists, designers, furniture makers, metal workers photographers, sculptors,

textile artists and wood turners and also incorporates Susan Megson Glass. Based in The Old Silk Mill, the historic home of C. R. Ashbee's world renowned Guild of Handicrafts, the co-operative is staffed by its members and hosts a rolling series of exhibitions contemporary and traditional arts and craf
---
Are you looking for a reputable art gallery to represent you as an artist and sell your art? In fact, many artists will tell you that looking and shopping for an art gallery is a rather overwhelming and even intimidating process. However, finding the best art gallery for your art is very important, actually essential for your career as an artist and your future. Unless there is an art gallery knocking on your door, you will be the one who has to knock on the doors of the art gallery. Beforehand, you have to find the right art gallery, of course. So the process of becoming a profitable or popular artist takes not just a lot of talent, but also a lot of hard work. Learn how to market yourself to the best art gallery and how to find the best art gallery to represent your art and you as an artist in this article.
We help you prepare shopping for art gallery thanks to this useful checklist you can follow:
Questions to Ask Yourself when Looking for Art Gallery
First things first, you need to be honest to yourself and consider all aspects of your present and future as an artist and as someone looking for a career in art. So before you rush out looking for and shopping for an art gallery, make sure to ask yourself some of the following questions:
• Is my art technically good?
• Is my art good enough to be represented and sold at an art gallery?
• Do I have a recognizable and distinctive style?
• Am I ready to sell my art at an art gallery?
• Do I have a cohesive body of art ready to display at an art gallery?
• Is my art sellable?
• Have I had success selling my art at other occasions, events, and venues that are not art gallery?
• Do I have the time and energy to supply the demand for an art gallery?
• Do I have a blog or a website that showcases and promotes my art as a portfolio?
• Do I have a professional-looking portfolio to offer to an art gallery?
If the answer of all or the majority of these questions is "yes", then you can continue looking for and contacting art gallery. If you answer to most or all of these questions with a "no", take your time to think of the required changes, work on yourself as an artist, and consider these aspects above before you look for an art gallery to sell your art. Make sure you are approaching art gallery once you are absolutely ready to do so and don't put yourself in a vulnerable position. Otherwise, it will help neither your self-esteem nor your ego as an artist.
How to Find Your Target Art Gallery
Now, once you are ready to find an art gallery and contact them, you are probably wondering where to start from. It is important to take enough of your time ahead and have a good idea of the art gallery where you want your art to be displayed and what is the right art gallery to house your art and represent it the best way. Finding an art gallery in your surrounding area can be easily done both online and offline. You can always ask fellow artists or just people you know if they can recommend you or suggest art gallery you can check out and visit. If you are not sure about the reputation of the art gallery or you just want to learn more, you can always contact fellow artists represented by this art gallery and ask for their opinion, etc. A good way to look for an art gallery is by checking online. The majority of the reputable and popular art gallery in your area will, for sure, have a website you can check. Online directory for art gallery such as this one can also be a helpful source of information and contact details.
Step-by-step to Finding Art Gallery
• Talk to other artists you know and ask them for recommendations and suggestions of an art gallery for you.
• Check out places both online and offline that have ads of an art gallery and the artists they represent
• There is a wide variety of websites of an art gallery. Make sure to check them and look the general image and brand every art gallery is representing itself through. Make sure these particular galleries are a good fit for your art and for you as an artist. In a nutshell, you want to research the type of art the art gallery are focusing on or specialising in and further approach only the art gallery displaying your type or style of art.
• Next, once you narrow down your options, you would like to visit this art gallery personally. Walk-in and feel the atmosphere and if it matches your style as an artist, how the art pieces are hanged or displayed, how the lighting works.
• Then try and visualize your art displayed there. Does it work in your imagination? Does it compare to the rest of the artists and their works represented at this art gallery?
• If a price sheet is not available, ask for it and see if the prices are within your price range.
• Don't forget to pay close attention to how the staff of this art gallery treats you and are they professional enough, do you feel comfortable discussing your art with them.
Understand the Protocol Before Approaching Art Gallery
It is important to know that reputable and popular art gallery get contacted by a big number of artists on a daily basis. Therefore, you want to stand out and show that you are a suitable artist for them. It is a good way to check ahead of the 'artist submission policy' then follow the guidelines. This will make a very good first impression of you since most galleries, especially the more high-end ones, have a very specific submission policy they want you to follow.
Make sure to follow this checklist before and you will feel ready to approach and contact every art gallery near you.
Questions to ask yourself when looking for art gallery
How to find your target art gallery
Step-by-step to finding art gallery
Understand the protocol before approaching art gallery