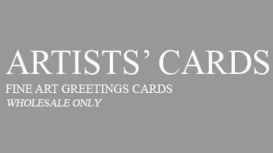 Artists' Cards publish Fine Art and Decorative Art Cards, Black and White Photographic Cards and traditional Christmas Cards, Charity (Cancer Research) and non Charity packs. Over many years we have

supplied discerning retailers with selections of cards tailored to their customer profile. A wonderful extensive collection of Fine Art Blank Greetings Cards for gift shops, bookshops and museum and gallery shops.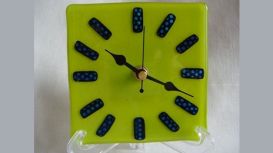 I create flameworked and fused glass art in my studio in Barnstaple surrounded by the stunning Devon coastal countryside. My initial inspiration is taken from the colours of the sea, preferring to

work with various shades of blue, green and azure. Using flat sheets of Bullseye fusible glass as the starting point, I cut and layer the glass before firing it in one of my digitally controlled kilns.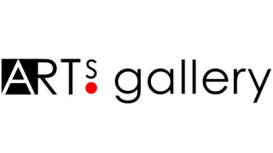 Situated in the busy Red Lion Yard, just off Okehampton High Street, is a vibrant and buzzy space where the finest local artists and craftspeople exhibit and sell their work. Alongside this fantastic

range of local work we promote the exclusive Dutch 'Arts Clothing' range, part of only a small range of items we sell which are not local. With over 50 different exhibitors at any one time, The Arts Gallery is brimming with bright, beautiful and inspiring items. We have cards.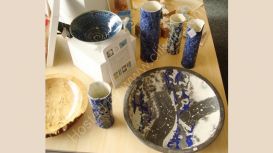 Opening hours: Monday to Saturday 9am to 5pm. The gallery aims to promote the work of local artist makers and is based in Barnstaple, North Devon. The work on sale is a mixture of media including

paintings in watercolour, oils, gouache, textiles, fused and lampworked glass, wood and ceramics.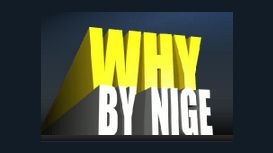 Nigel's fascination with science and space led to his unique patented design of WHY, a question mark made from the letters W, H and Y. The W is at the top, the H is halfway down and the tail of the Y

at the bottom curls around to form the dot of the question mark.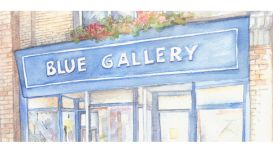 Edward Woollard, maternal grandfather of current owner Roy Smith, opened the Blue Gallery at 16 Joy Street, Barnstaple in 1946. He was a photographer by profession and also had a café on the

premises. Fast-forward 66 years and the Blue Gallery has grown to be one of the the largest art, craft and needlework suppliers in the South West, selling brands such as Daler Rowney, Winsor & Newton, Pro Arte, DMC, Dylon, Coats, Staedtler and much more from the same premises in Joy Street.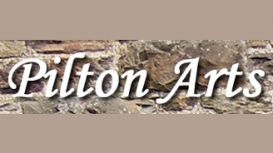 We are a friendly group of some seventy members, ranging from complete beginners to experienced artists. We are just coming to the end of the Spring season of workshops and the planning of the Summer

session, starting in June, is well advanced. Keep an eye out for full details under WORKSHOP section. High quality contemporary work from Devon based artists and makers. Easy to get to, we are just over a mile from the A388 at Stibb Cross, between Holsworthy and Great Torrington.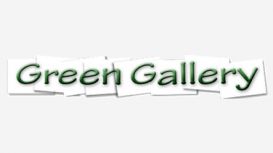 This exhibition highlights the dangers of the North Devon coast, the Graveyard of the Atlantic, to shipping from time immemorial to the present day. This coast is infamous for having at least 10

recorded shipwrecks for every mile. Included in this exhibition will be contemporary photographs of what remains of the SS Collier, MS Johanna, the Green Ranger and others.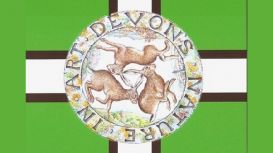 Devon's Nature In Art is a unique collection of artwork by the well known artist Eleanor Ludgate. It is a celebration to the nature of Devon. Eleanor has been inspired by the special beauty of this

English county for many years and has endeavoured to capture it's nature, wildlife, birds, flowers, butterflies & insects, it's views and ever changing moods on paper and canvas to share with others. There is a permanent but constantly changing exhibition with new works being introduced.