 The THH Gallery is situated at 22 Bridge Street, KELSO. The Gallery was established in 2004 in a refurbished townhouse dating back over 400 years, and just of the cobbled square. The Gallery is fast

becoming one of Scotland's finest independant, contemporaryart galleries. Offering 5 distinct gallery rooms, beautifully laid out to showcase the finest artwork, sculpture and glass from our fantastic artisans who are regional, national and international in their appeal and following.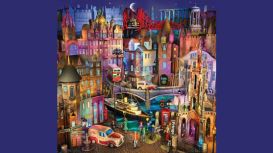 We are an art for ALL company and you will find on our website and instore an outstanding collection of limited edition prints, originals paintings and sculptures. We currently work with over 100

artists and hold in excess of 3000 pieces of artwork in stock at any one time. Breeze retains a firm grasp on its core values, identity and philosophy. EDINBURGH HAS AN EXCITING NEW CONTEMPORARY ART GALLERY! LIFE ON CANVAS Collectable Contemporary Fine Art Gallery Open Mon to Sat 10.30 to 6pm, Closed Sundays. On show are original only works by

Kirstie Cohen, Pam Carter,, Lesley Banks, Blair Thomson, Davy Brown, Jemma Derbyshire, Steve Johnston, Mark Holden, Karen Willis, Alfred Allan, Lynsey Ewan, Lillias Blackie, Elena Kourenkova, Scott Naismith, Yulia Allan, Elise Chisholm and Pat Kramek. Fraser Gallery is based in the heart of St Andrews, and boasts a unique and diverse collection of Scottish contemporary art. The artists represented are amongst the most sought after and collectable

in Scotland and include Francis Boag, Jack Morrocco, Marj Bond, Colin Brown, Malcolm Cheape, David Mackie Cook, Joe Fan, Alberto Morrocco, and June Redfern, amongst others. Housed in a series of intimate rooms, with extensive hanging space, the gallery occupies the whole of the ground floor of a t Award winning gallery showing contemporary Scottish art from abstract to representational. Applied art is also featured - sculpture, ceramics, glass and jewellery. Situated on the Shore at Leith

beside 3 Michelin starred restaurants and many other restaurants and bars. "The best contemporary Art Gallery in Glasgow, friendly, knowledgeable and passionate about Scottish Art" This Harbour Gallery is owned by the Artist- Stuart Herd, as well as showcasing his work fresh off the easel (his studio is 300mtrs away on the quayside), the gallery shows work from artists

countrywide - originals and prints. Due to its location, the gallery also sells Original Steamer memorabilia -timetables,handbills, maps and tickets either Framed or mounted alongside hand made jewellery, ceramics and sculpture.The Scottish Field magazine rated it in the 'Top Ten Places to visit in Argyll'. An historic city centre gallery offering fine art and limited edition prints by some of Scotland's leading contemporary artists You are welcome to visit and view original paintings on sale by Stuart Herd or see his works in progress. He may be working on a land or seascapes for galleries UK wide or under commission, but will

for sure have a west coast scene underway. The Art Studio also offers a bespoke picture framing service.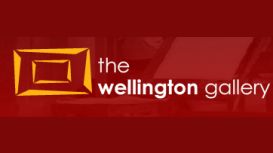 The Wellington Gallery was established in 1981 but has a longer history selling and framing pictures as part of the diverse firm of W & W Stevenson and developed from a lifelong passion for art within

the family. Today we still sell paintings and prints, alongside art & craft materials, with the family involvement still core to the business.